15. Ulysse Nardin – Royal Blue Tourbillion
Price:
$1 million
This platinum limited edition watch was produced only in 30 pieces. Moreover, the watch was sold only at select retailers. The marriage of 568
baguette-cut
Top Wesselton diamonds (33.8 carats) and 234 baguette-cut royal blue sapphires (16.79 carats) makes Royal Blue Tourbillion one of the most desired watch model among the connoisseurs. Though the model has water resistance only 30 meters – I am sure you won't try diving for $1 million. If you are not metallic strap fan – you can try
Royal Blue Tourbillion
set with a leather strap and platinum buckle.
14. Hublot – Black Caviar Bang
Price:
$1 million
And again let's say hallo to baguette-cut black diamonds as the crown dial and 18 carat white gold case of that model are encrusted in the stones. "Unfortunately", the watch has no numbers on the face, BUT instead you watch 544 diamonds, a total of 34.5 carats. In 2009, Hublot Black Caviar Bang won the Grand Prix de Genève Jewellery Watch prize.
Black Caviar Bang
limited-edition is based on the Hublot's popular Big Bang model. The price of the watch model makes it
8th most expensive
watch in the world!
13. Chopard – Super Ice Cube
Price:
1.1 million
This is the case of speaking title. The
Chopard's Super Ice Cube
freaky
square-faced dial exhibits 66 carats of diamonds with 1897 brilliants. Swiss jewelry Chopard released this strange model.
12. Vacheron Constantin – Tour de l'Ile
Price:
$1.5 million
Some people consider this unique watch to be the most complicated watch ever made. It is so because of the amount of it's parts – 834 inside the
Vacheron Constain's Tour de l'lle
. The watch is equipped with 2 time zones, Cn the sunset time function and incredible astronomical indicator of the night sky. Moreover, the watch model fits a perpetual calendar. Vacheron Constantin Tour de l'Ile is the world 5th most expensive watch coming with the price tag $1.5 million.
11. Blancpain – Tourbillion Diamants
Price:
$1,812,700
If you are in need of
480 diamonds
totaling 58 carats contact Blancpain's headquarters in Paudex and you'll get them on the dial, case middle, bezel, bracelet and lugs of the Blancpain
Tourbillion Diamants watch model.
The self-winding mechanism has an amasingly long power reserve:
7 days
. Blancpain
Tourbillion Diamants has water resistance
to a depth of 100 meters.
10. Patek Philippe – Model 1591
Price:
$2,263,964
(Sold at Christie's in 2007)
In 1996
Patek Philippe Model 1591
was firstly offered at auction and won the place of the most expensive stainless steel wristwatch model ever sold at auction. Until this time the model was not known publicly. Although, it was made in 40-th. Patek Philippe Model 1591 is said to belong to a maharajah who wore it when playing polo. Then it became a present to a maharajah's wedding organizer. Some say that it is the only stainless steel model 1591 ever made.
9. Patek Philippe – Model 2499 First Series
Price:
$2,280,000
(Sold at Christie's in 2007 )
Patek Philippe
Model 2499 First Series (1957) is a real limited edition, as there are only 5 other examples of this 18-karat rose-gold wristwatch, which appeared in public to date. The model is the most expensive watch ever sold at Christie's.
8. Franck Muller – Aeternitas Mega 4
Price:
$2,7 million
Containing 1,483 components this
Franck Muller Aeternitas Mega4
has the most complications of any wristwatch model in the world – 36! Aeternitas Mega4 fits 3 time zones indicators, 999-year calendar and a flyback chronograph. The watch has chimes the Carillon Westminster melody on the hour with small strikes on the quarter hour. Not sure if this is a real complication, but…Despite of the high power inputs Franck Muller Aeternitas Mega hasa
3-day power
reserve for the movement and 24-hour reserve for the chime. Don't be naïve, cause the watch is available only in New York and Geneva
.
7. Cartier – Phoenix-shaped watch
Price:
$2,755,000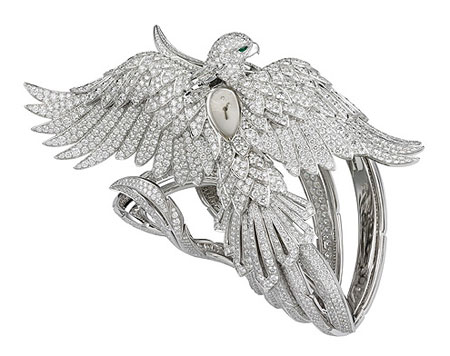 Cartier's debut with the
Phoenix-shaped watch
model took place in April. 18 carat, rhodium-plated white gold wristwatch uses emeralds for the bird eyes and has one pear-shaped, portrait-cut diamond weighing 3.53 carats. The masterpiece from the Merveilles du Nil de Cartier collection covered with
3,010 brilliant-cut diamonds
totaling 80.13 carats is ready to fly from your hand!
6. Patek Philippe – Model 2523 Heures Universelles (1953)
Price:
$2,899,373
(Sold at Antiquorum in 2006 )
Have you ever dreamed of a journey over North America? Patek
Philippe Model 2523 Heures Universelles
with it's dial, representing the map of North America can help you. This 18-karat yellow-gold world time watch witfitting the polychrome and enamel dial deserves to be taken with you.
5. Piaget – Emperador Temple watch
Price:
$3,5 million
The
Piaget Emperador "Temple"
is a
2 into 1
. It has a hidden watch that can be seen by pushing down on certain parts. The first watch's case is set with
481 brilliant-cut diamonds
,
207 baguette-cut diamonds
, and a cute bonus on the top of the case – an emerald-cut diamond. The second watch with a tourbillion and a 40-hour power reserve is provided with Polynesian mother-of-pearl dial, fitting 162 brilliant-cut diamonds and 11 baguette-cut diamonds. But this is not the end! Don't you remember the price? The bracelet is embellished too – 350 baguette-cut diamonds serve for this goal. If you want to get this piece I have to disappoint you – the model has already been sold. But if you are patient enough Piaget is ready to make double secret watches on commission.
4. Patek Philippe – Platinum World Time
Price:
$4 million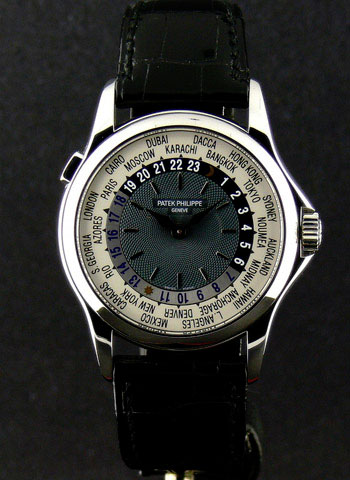 Experts conceder this platinum Patek Philippe world time wristwatch
the only one of its kind
ever made. In 2002 this watch became the most expensive watch, sold in action thanks to it's action bid – $4 million.
Patek Philippe's Platinum World Time
has a self winding mechanism, displaying all the 24 time zones and is famous for its easily switchable night and day tones, user friendliness and readability.
3. Patek Philippe – Sky Moon Tourbillon
Price:
5,6 million
The
Sky Moon Tourbillon Ref. 5002
is the
most complicated watch
ever made by Patek Philippe and also the workshop's first double-face wristwatch. On the front side: perpetual calendar with retrograde date hand and on the back side: sidereal time, sky chart, phase and orbit of the Moon. Sky Moon Tourbillon movement consists of 686 parts, some of which are microscopically small. On May 10, 2010, a Patek Philippe Sky Moon Tourbillon 18K gold perpetual calendar chronograph wristwatch with moon phases from 1943 sold at a Christie's auction in Geneva for an astounding
$5.6 million
.
2. Chopard – 201- Carat watch
Price:
$25 million
Can you imagine an amassment of diamonds on the wrist? Chopard horology house can! And it presents
Chopard 201 Carat watch
, fitting 3 heart-shaped diamonds. The blue one weighs 12 carats, pink – 15 carats, and the white – 11 carats. The Magnificent Three are placed in a bracelet which is encrusted with white pear-shaped diamonds representing a flower with a yellow diamond in the center of each. The total carat weight of the watch is 201 carats and the total number of diamonds is 874.
1. Jaeger-LeCoultre - Joaillerie 101 Manchette
Price:
Priceless (Unknown at this time)
Joaillerie 101 Manchette
is the
most expensive watch in the world
. Manufactured by Jaeger-LeCoultre, it resembles a bracelet. But firstly it is a watch. Fitting the mechanical manually wound
Jaeger-LeCoultre Calibre 101
movement the watch represents series of polish and diamond-set squares. Thus it becomes difficult to find the exalted Calibre 101 among the jewelry puzzle. The watch is available in two sets:
1) 576 diamonds and 18-carat white gold;
2) 400 diamonds and 11 onyx cabochons.
A silver-colored dial with a sapphire crystal and a winding crown on the case back makes the watch really impressive.
Are you ready to spend over 1 million to buy one of these expensive watches?
Expensive cell phones in world